Why UP Education's
online delivery works well
No need to waste a moment. UP Education's online delivery is a full and enjoyable learning experience and allows you to make the most of your time at home to gain knowledge, skills and confidence for university and your future. We're here to support you.
With UP Education's online delivery's rich learning environment, you'll get access to all the expertise, guidance, tools and resources you need.
Student support and pastoral care
Student support team
Parent portal
WeChat
Student support team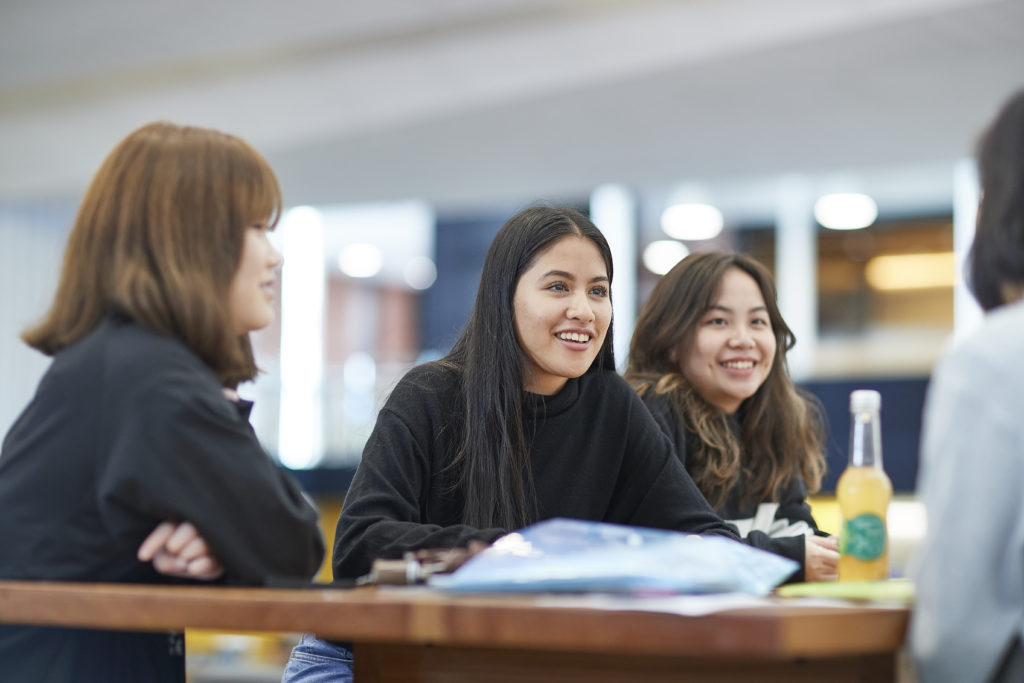 Our friendly Student Support Team is here to assist students with practical and personal challenges, as well as immigration matters, visas, insurance, accommodation, and banking. It's a great place for students to access information about living and studying in New Zealand.

Email: studentsupport@up.education
Parent portal
WeChat
How the programme is delivered
We use a number of online applications to deliver our Victoria University of Wellington Foundation Studies Programme and ensure you have the most effective and intuitive learning experience. You're not alone. Enjoy real-time interaction with your teacher as we take you through your learning process. You can discuss tasks, ask questions and solve problems – all live.
1. Live lessons with Microsoft Teams
Whole class, large group, small group, individual sessions with your teacher.
2. Self Study
On our learning platforms and with our flexible learning activities.
3. Collaborative
Working in groups, teams, projects and presentations.
The main platforms that we use are:
As part of this, we use a range of powerful digital technologies to bring you an engaging and rich learning experience, preparing you for university and your future in New Zealand.
Blackboard
Microsoft Teams
Nearpod
Education Perfect
Blackboard
Blackboard is our core platform for delivering UP Education's online delivery. It's a versatile application that allows students and teachers real-time interaction for lessons, and offers a number of powerful tools including video, interactive quizzes and tests, student journals, and discussion forums – all live and fully interactive with the teacher.
Microsoft Teams
Nearpod
Education Perfect
Find out how these other interactive tools will also help you develop and enjoy your learning online:
provides short (5-10 minutes) game-based quizzes and learning games as part of our lessons.
is an interactive tool that allows for students and teachers to use their phones to participate in quick questions and polls within lessons as a short (5-10 minutes) activity.
allows students to make short videos and share them with each other as part of the classroom. This can take place in a live lesson, or over a week or so as part of self–directed learning.
Curriculum and study tips​
In the online orientation, all students will be introduced to Blackboard, our main learning management system. Blackboard is where we will provide clear instructions and links to all other platforms.
Between NZT 11:30am-5:30pm are live lessons on Microsoft Teams
You will get a timetable every term, and your teacher will guide you through the different types of lessons and what is done together in real time, and what is done in your own time.
Students on the Certificate programme will have 20 hours a week of lesson time and be expected to do 20 hours a week of self-study. Attendance is recorded and monitored. Attendance is not just about being there, but also participating, contributing and being part of a team.
Instruction will be in English.
Timetable includes approximately twenty hours a week, a mix of live, recorded and self-study lessons from  Monday to Friday.
You'll have ongoing support and interaction with your teacher using the chat and video in Teams, email, and Blackboard
Homework – all assignments, information and work is provided and submitted securely and privately between students and teachers via our anti-plagiarism software
It's not all study – expect guest appearances, some surprises and a bit of fun as well!
How would your timetable look?
Frequently asked questions
The course will start at the same time as it does for all other students – expected next start date in April 2022
No, we can't accept late starts for online study as the main reason that we normally show some flexibility here is due to visa and travel delays, which don't apply to online study.

As soon as we are confident that the borders will re-open, we will work towards welcoming students to New Zealand. There is likely to be some delay with visas due to the backlog and so exact timing will be confirmed when we know more. We will provide online learning for as long as required while students wait for visas to be processed.