The UP 100:
Minel Espeleta
Minel Espeleta is one of the exceptional international students featured in The UP 100 – a compelling showcase of 100 students and graduates achieving education and career success.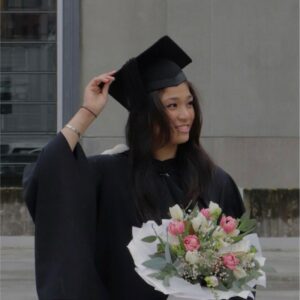 Minel Espeleta made the decision to move to New Zealand to pursue a high-quality education alongside her two younger siblings.
She says the pandemic hit her family hard, but with the support of UP International College, she was able to consider degree-level study at Victoria University of Wellington.
As the eldest sibling, Minel leads the way for her family, and proudly graduated with a Bachelor of Arts in 2021. Her first job out of university was with the Inland Revenue Department in the Government precinct of Wellington.
Minel continues to thrive in her new role as consultant for the Ministry of Justice.
When asked about the value of being educated in New Zealand, she says, everyone deserves the opportunity to pursue a great education — no matter where you come from, or how much money you have in the bank.
To read The UP 100, visit the UP Education website.