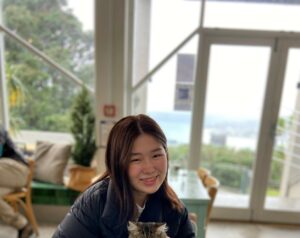 When did you start your foundation and when did you start your university?
I started the Victoria University of Wellington Foundation Studies on October 2021, and university from this trimester (July 2023).
Why did you want to study overseas in New Zealand? Why did you choose Foundation programme at UP International College?
New Zealand is one of the safe countries in the world, so it always has been my top place of where I wanted to study. People are very friendly and supportive which make me feel welcomed. I chose the Foundation programme before starting university because they provide their students bunch of resources about Victoria university through workshops. Teachers are also informative that I could get many help. It is a very good place to get to know about some other students who are also going to study at the same university.
Why did you choose your current bachelor degree?
My personal experience inspired me to study Psychology. I am now interested in how our culture affects our ways of thinking or feelings, and how it matters to our mental health.
Can you share with us your study experience?
Although being in the different time zones made it a bit hard to work with others, I found it was really fun to have many opportunities to communicate with people from different cultures.
Did you feel supported by your teachers and the staff from UPIC?
It was an amazing experience to study with people from all over the world and get to know about them. Teachers were all very supportive and I had no hesitation to ask any kinds of questions in and out of the classes. They taught me not only the class contexts but also it is okay to ask help when I need them.
Can you describe your everyday schedule with us?
I used to wake up 6:30am to get prepared for the first class which was from 7:30am in my time. I used my free periods as my study time  to catch up to all the assignments I had. After school finishes at 1:30pm in my time, I had an afternoon break until about 3pm then studied except for dinner and shower time until I go to bed about 11:30pm.
Would you recommend other students to study abroad in New Zealand?​
I strongly recommend other students to come to New Zealand to study because it not only improve your English language skills but also grow you as individuals. It is never easy to get out of our comfort zone, but you would love it once you have done it.
Did you win any scholarship?
I received an student award on April 2022. I put all my effort to study hard and never forget to be supportive to others.
What are the challenges of studying as an international student?​
Using English was the biggest language for me when I started studying in NZ. I used to study English so studying in English was completely new for me and I found that is quite challenging although I got used to as the time goes.
What is the most exciting thing you have done in New Zealand?
I have never done anything special, but I love going to cafés after school and try a lot of delicious food. There are many of them in Wellington so never get bored.
(I was studying in Wellington as a college student.)
What is the next steps for you, career-wise and in education? ​
I am currently a first year offshore at Victoria University of Wellington, so be an onshore student and get used to the environment is my next step.
If you have any advice for other students who also want to get an overseas education experience, what would it be?​
It's never been easy to get out of your comfort zone, but you would love it once you've done it. You can grow as individuals and you can feel your improvement. It might be challenging at first, yet it is worth it so much.
Name: Haruka Yanagidani
Gender: Female
Aage: 18 years old
Nationality: Japanese
Hometown: Osaka
Current location: Osaka
Foundation programme: Victoria University of Wellington Foundation Studies Programme at UP International College
University destination: Victoria University of Wellington – Bachelor of Psychology and Cultural Anthropology